What sets A Step Above Flooring apart from other flooring companies is simple - other flooring companies have simply lost focus on the value of the customer.  We have not.  Many area big box stores offer bargain prices for their products; however, the quality of their installation is substandard.  Other Cincinnati area flooring company dinosaurs have fancy showrooms, but only offer over-the-top pricing.  A Step Above Flooring's main focus is to provide you the outstanding service you deserve, while going a step beyond with affordable pricing matched with extraordinary quality.  Our commitment is to amaze you with an overall flooring experience to talk about for years to come.
We offer exceptional pricing for both commercial and residential building.  Whether it is carpet, hardwood, tile, vinyl, laminate or custom area rugs, we guarantee to provide the highest quality, individualized service for your flooring experience.
Our philosophy is if we can't meet your expectations, we don't deserve your business.  
We want to know our customers and we stand behind our hands on, personal consultation process.
We will ensure you have an expert installation and provide on-time delivery – a "traditional" approach that we feel is rarely practiced anymore.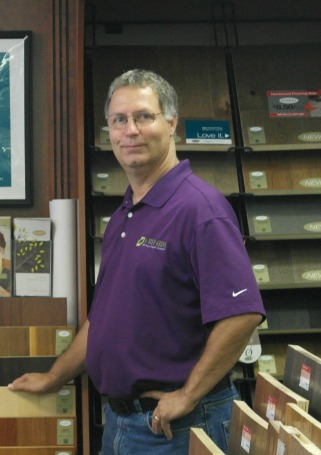 We have long-standing relationships with our installation crews who have over 20 years experience in commercial and residential flooring installation, maintenance and restoration.  A testament to the level of service and quality you will receive when you choose us for your project is our high level of commitment to you.
Martin Dickhaus has been in the flooring business for over 30 years.  Martin, also known as "Ice," is well respected in the design and building industry and over the years has built a diverse and loyal client base.  His professionalism and personality are the reasons his clients continue to pursue ongoing business relations with him at A Step Above Flooring & Installation.
Our roots run deep in experience with top-notch craftsmanship...

We are privileged to be members of the The National Wood Flooring Association, an organization that provides members with education and training, as well as representing all sectors of the hardwood flooring industry. As members of the NWFA, we keep current in industry developments and have information readily at hand regarding industry-standard guidelines and technical support. The NWFA also provides opportunities for hands-on training to advance skills and connect with other wood flooring professionals.
We are also a member of Angie's List and continually maintain an A Rating from Angie's List. In 2013 and 2014, we were recognized as Best of Houzz on www.houzz.com, a creative site that offers exceptional design ideas. Finally, in support of our local community, we are also members of the West Chester Chamber of Commerce and Cincinnati Chamber of Commerce. Both organizations provide unique opportunities for businesses to network with each other and benefit the local communities that surround the Cincinnati/Tri-State area.