Area Rugs: Best Material, Size, and Style for your Home
Area Rugs: Best Material, Size, and Style for your Home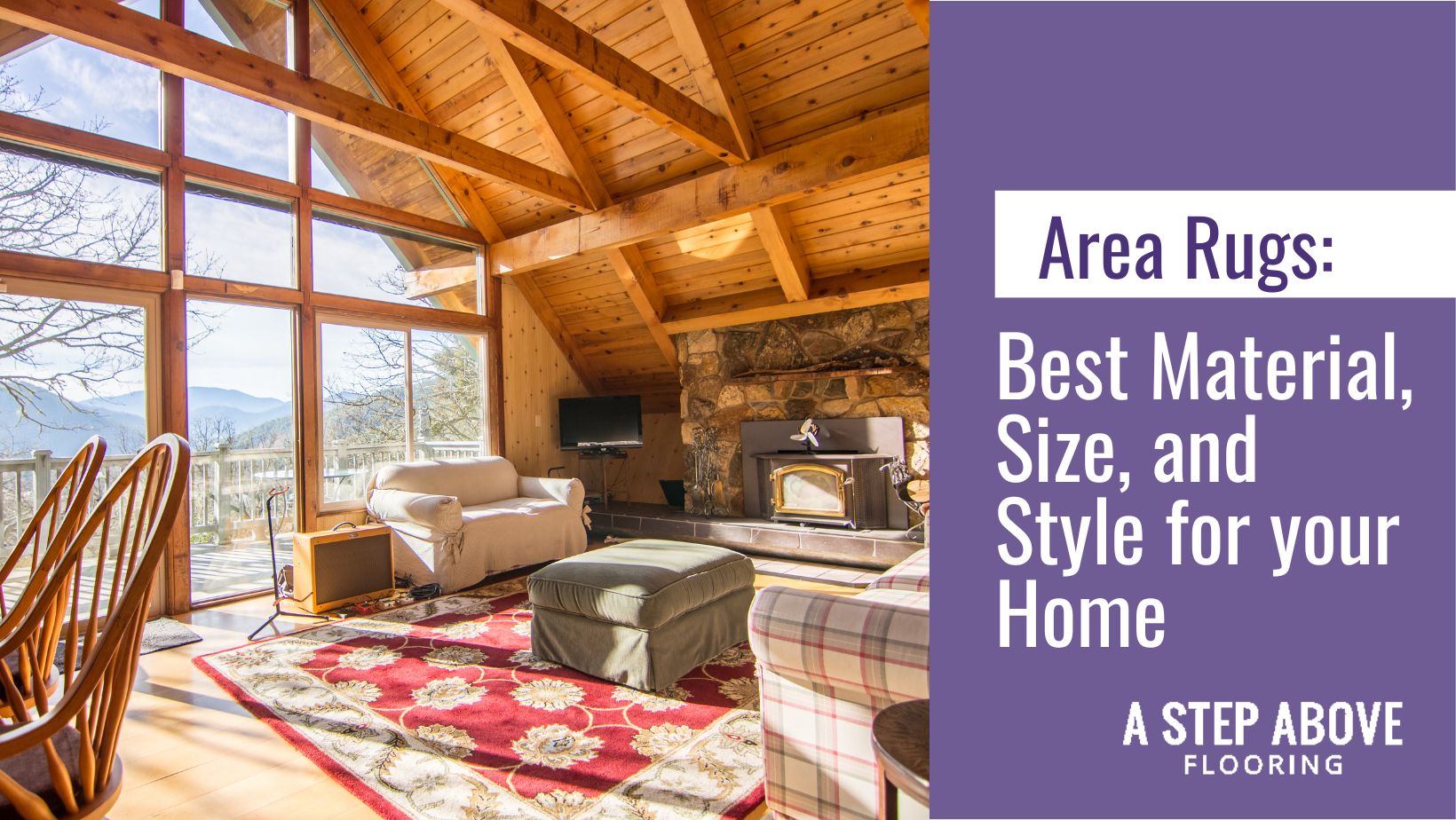 We all love our floors. We love hardwood, tile, laminate, stone, vinyl, and everything in between.  
However, one type of flooring that has been overlooked in recent years is the trustworthy, and versatile area rug.  
Unlike full-floor carpeting, an area rug is a great option for those who already have beautiful, dependable floors, but could use an extra touch of warmth and style.  
A rug that is proportional to your room will help fill in the space and create a sense of balance.  
So, how do you know what rug material, size, and style are best for your home? 
In this article, A Step Above Flooring has assembled a guide to help you determine how you can choose the perfect rug for your home.  
Your Guide to Finding the Perfect Area Rug 
You want the perfect area rug to add to your home. The best rug will create a sense of warmth, style, and symmetry that cannot be replicated.  
For more information on choosing the perfect area rug for your room, check out this blog from The Spruce: 
Let's look at some of the best rug options based on room type.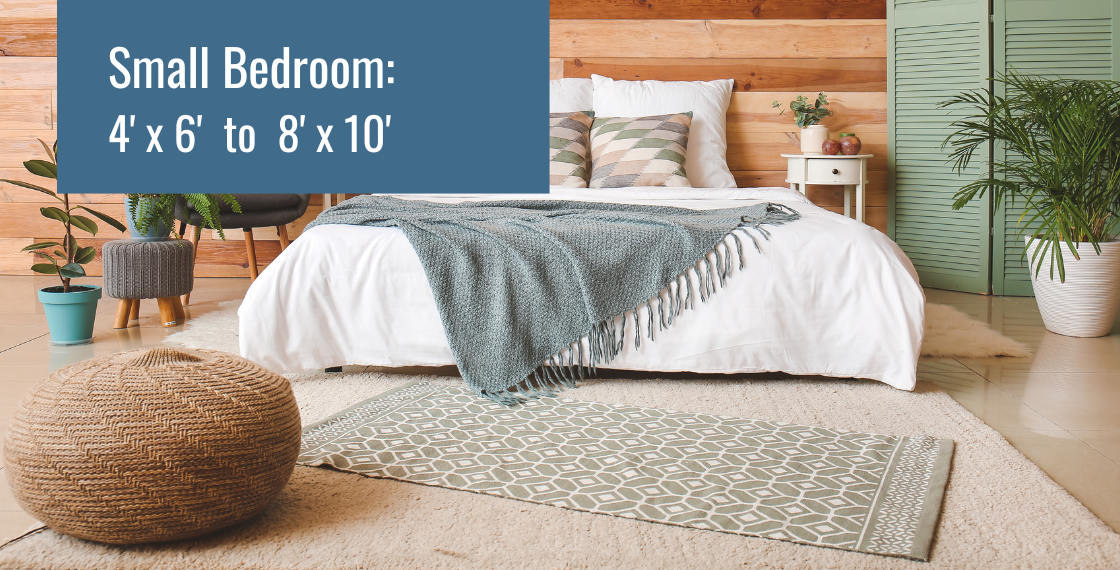 Small Bedroom 
If your bedroom is on the cozy side, you need a rug that is strategically placed to extend the space and give it a more spacious look.  
One thing you do not want is a rug so large that it fills up the entire space.  
A Good Rug Size Range: 4' x 6' to 8' x 10'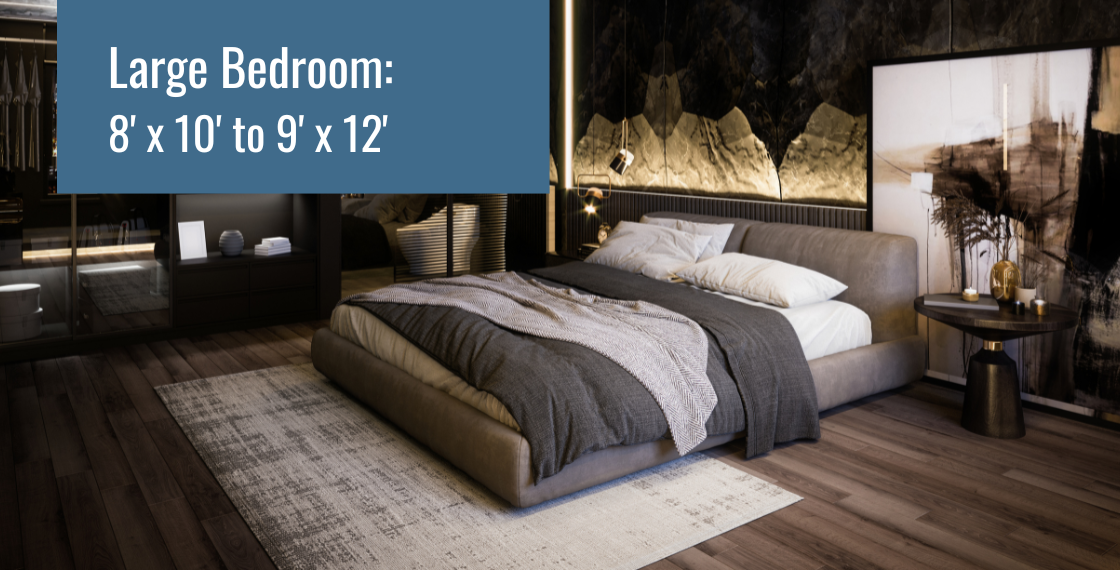 Large Bedroom 
For more expansive bedrooms, you will want to look for a rug that creates symmetry and balance. A popular look is a rug that covers the space of your bed and nightstand to perfectly frame the space and create a well-defined boundary in your home.  
A Good Rug Size Range: 8' x 10' and 9' x 12'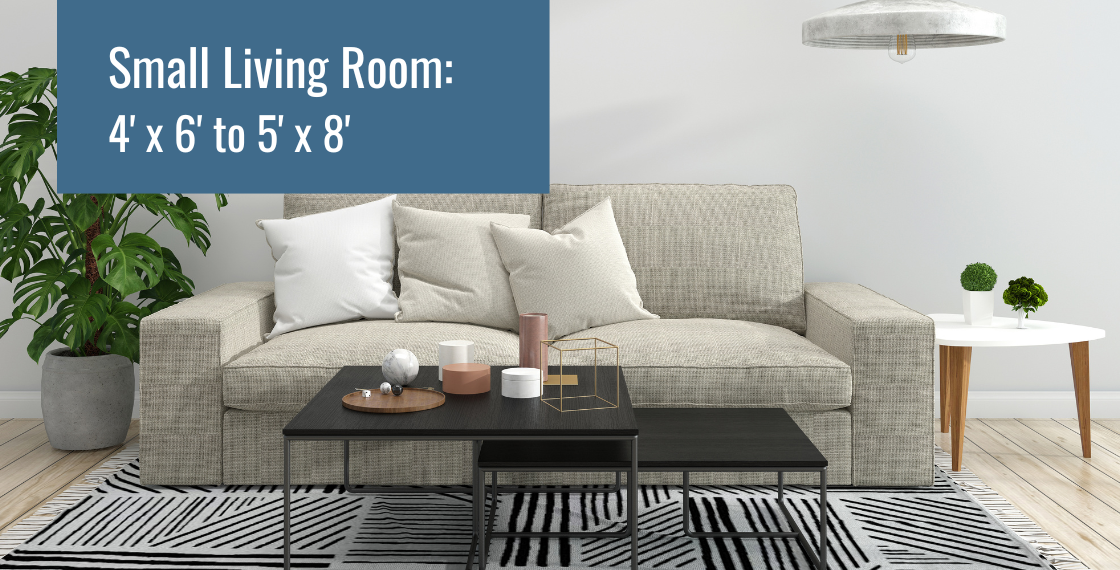 Small Living Room 
Rugs are a great addition to living rooms as you will spend a lot of time in this room with your family and friends. Because of this, you will want a cozy space that is warm and inviting.  
A proper area rug can help fill in this space and add an attractive burst of color to accompany you on even the coldest nights.  
Good Rug Size Range: 4' x 6' to 5' x 8'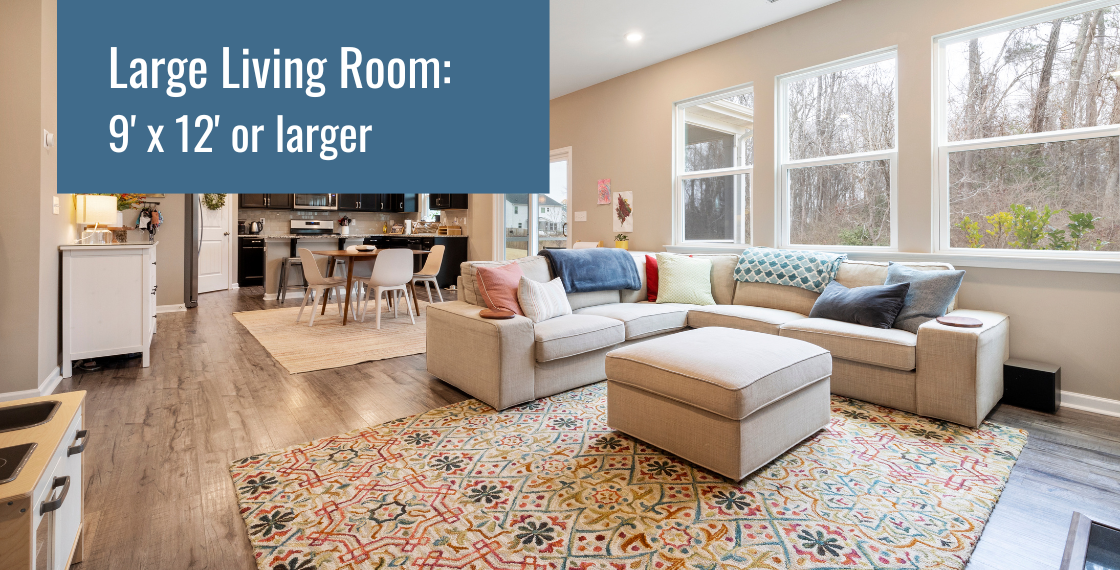 Large Living Room 
If your living room has a bit of extra space to fill, you will want a rug that lends a hand to make the space feel more intimate. Your challenge is this: you want a rug that is small enough that it does not overtake the space, yet large enough not to be dwarfed by it either.  
Choose your rug after you have determined your seating arrangement for the best results.  
Good Rug Size Range: 9' x 12' or larger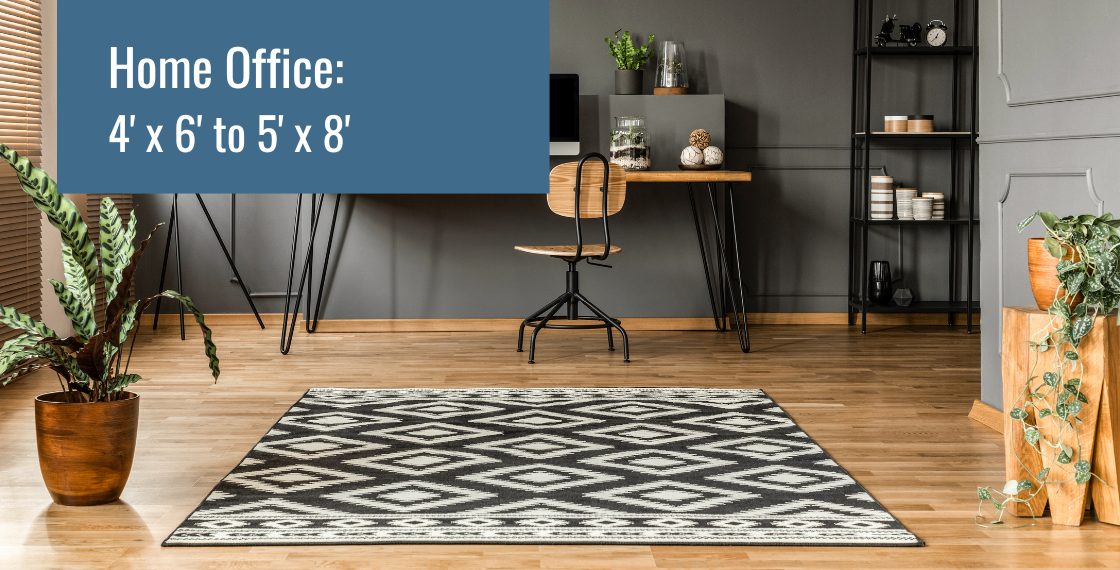 Home Office 
For a home office, a well-placed rug can help set the area apart. You will want a relatively sung rug that fits neatly under your desk to create a cozy work area that boosts productivity.  
A Good Rug Size Range: 4' x 6' to 5' x 8"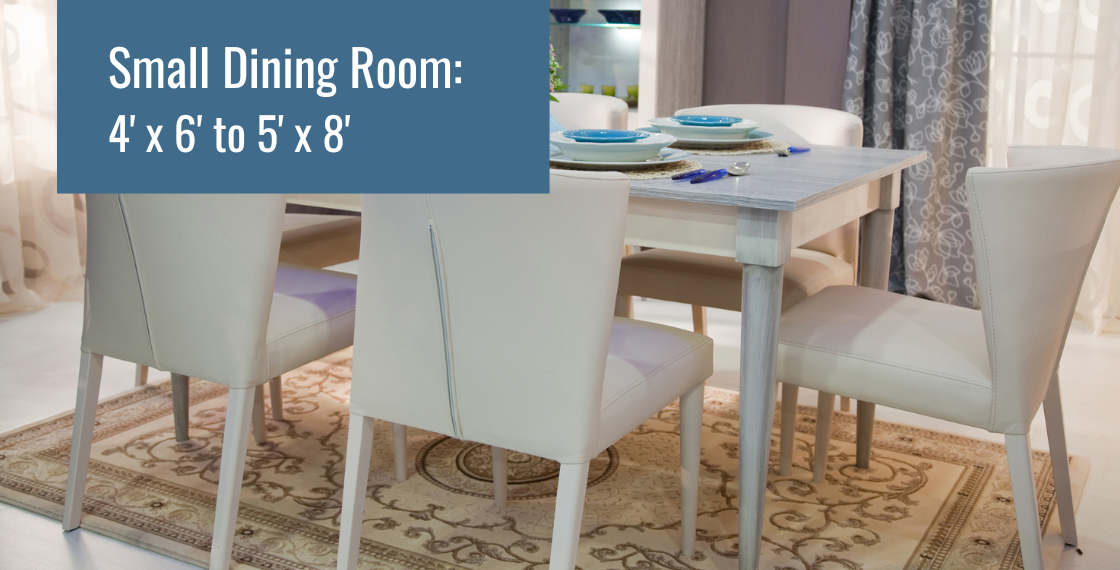 Small Dining Room 
You can use a rug to ground even the most compact dining spaces. Most importantly, do not the rug bleed into your kitchen or living area. Your area rug should fit under your dining room table with enough area to breathe all the way around. Be sure to leave space for chairs! 
Good Rug Size Range: 4' x 6' to 5' x 8'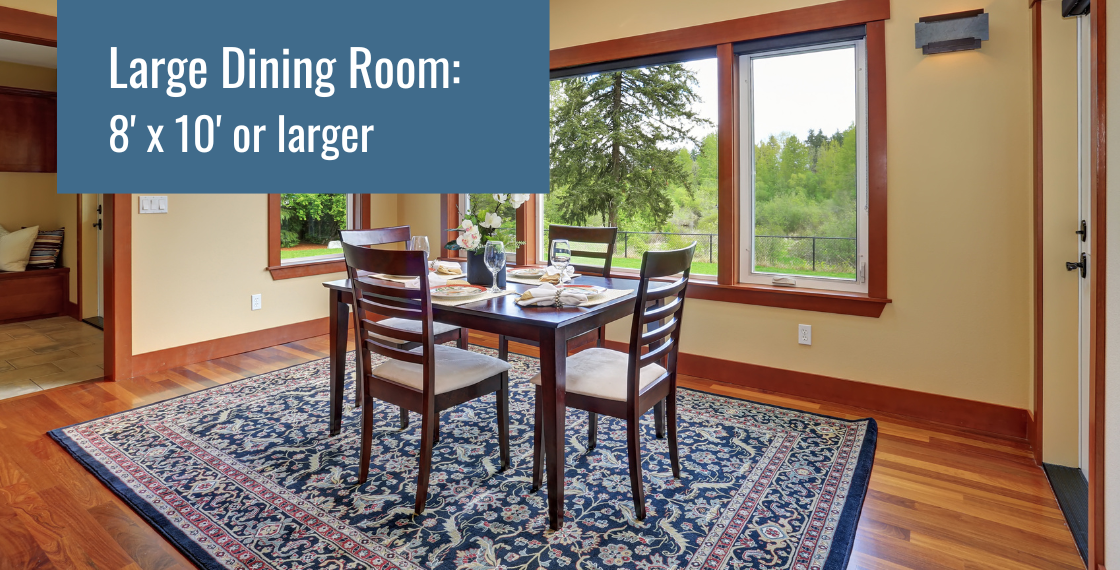 Large Dining Room 
For a formal dining room with plenty of space, your rug options are limitless. Just be sure that your area rug gives plenty of room around your table without covering the entire floor. A well-placed area rug in a large dining room can make even the busiest of meals feel like an intimate outing.  
A Good Rug Size Range: 8' x 10' or larger 
Find the Perfect Area Rug with A Step Above Flooring 
If you are looking for the best area rug for your home, then the only place to go is A Step Above Flooring. 
Depending on your needs, high-quality rugs are usually made from wool, silk, cotton, and nylon. 
For the best styles, materials, and overall selection of area rugs in Cincinnati, Northern Kentucky, and Eastern Indiana, stop by A Step Above Flooring.