Best Low Maintenance Floor Options
Best Low Maintenance Floor Options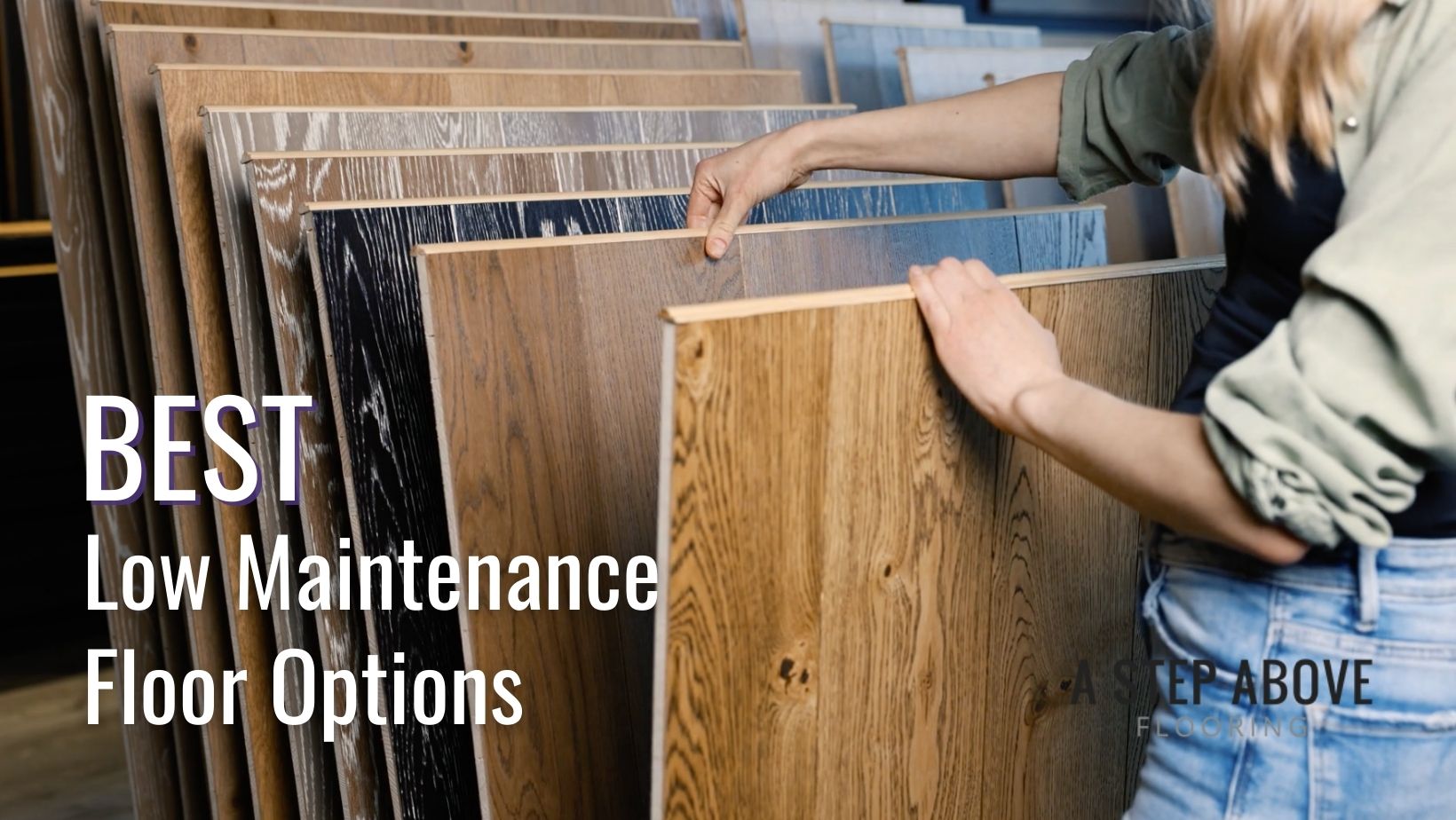 Your floors are one of the most valuable assets in your home.  
The right floor suggests a specific mixture of style and comfort that make up the basis of a home.  
There are many beautiful options to choose from when selecting new floors, but if you live in a high-traffic home, you will find that some of the most ornate models need constant maintenance and can quickly take irreparable damage.  
Finding floors that mix style with durability can overwhelm even the most hardened handymen.  
At a Step Above Flooring, we know the struggle all too well.  
In this post, we have assembled a list of the top four-floor types that mix elegance with resilience.  
Low Maintenance Floors: Sturdy Not Dirty 
Low-maintenance floors are ideal for homes with high traffic. If you have kids or rambunctious animals, then the following floors are an ideal fit for you.  
Consider the following when looking for floors that are easy to clean and can stand up to the most chaotic homes.  


So, you love hardwood floors. So do we! The only problem is that they require constant sweeping and grime can easily become lodged between the floorboards.  
The solution is vinyl flooring.  
Vinyl, as a floor type, is a great imitator. Vinyl can replicate the look of nearly any flooring type, but it most commonly is made to resemble hardwood.  
Vinyl floors look just like hardwood, but they require a fraction of the maintenance and are more affordable than true hardwood.  
Add to that the fact that vinyl is extremely resistant to scratching and you have the ideal blend of substance and durability.  
A ceramic tile is an option that truly works in any room of a home. It's most often used in kitchens and bathrooms as well as foyers, mudrooms, and other high-traffic areas. Probably the most fun thing about ceramic tile is the versatile design that you can mix and match patterns or accentuate with custom designs and motifs.  
Ceramic tiles have a hard, solid surface, that typically doesn't attract or hold onto dirt, making a ceramic floor easier to wipe, mop or sponge. This also helps to keep the air free of irritating materials that can be harmful to asthma and allergy sufferers.  
Routine maintenance requires little more than sweeping, vacuuming, and mopping to keep the floor free of dirt and loose debris.  
If there are any drawbacks to this durable, elegant flooring, it is that it can be hard and cold underfoot. 
From natural solid hardwood wood to engineered hardwood planks, hardwood flooring comes in a wide range of wood species, grades, and finishes. 
Although hardwood floors typically cost more than carpeted floors, they also require less maintenance. Hardwood floors are typically sealed surfaces with a protective layer of finish, which makes wood floors to be more stain-resistant than other types of flooring.  
Because hardwood floors are durable, they are great for high-traffic areas. One of the benefits of hardwood floors is that they can be repaired and refinished if they are scratched or damaged, extending the life of the floors.  
When you consider the overall life of a hardwood floor, the benefits of hardwood outweigh the initial cost.  
Supporting Your Home 
Floors are the foundation of a healthy home.  
Just like other valuable assets, your floors are an investment that you must look after.  
While the most opulent floors are nice to look at and boost your home's value, they require constant maintenance and are prone to scratching.  
For this reason, higher traffic homes are better off pursuing floors that require less maintenance.  
If you are ready to install low-maintenance floors in your home, then it's time to visit a Step Above Floors' expansive showroom.  
We offer all types of floors, from those that require daily care to those that can stand up to the most chaotic lifestyles.