Choosing the Right Flooring Option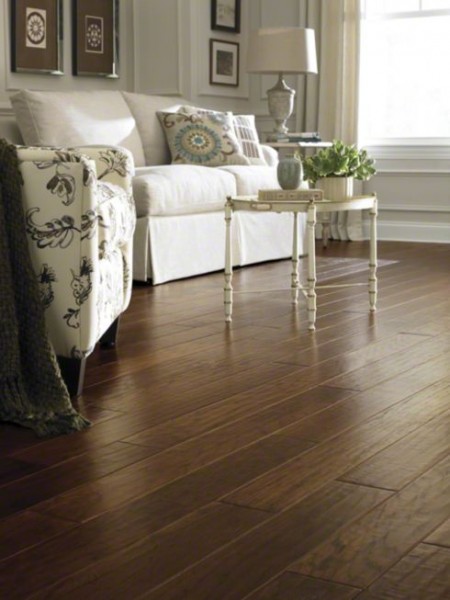 One of the best ways to dramatically change the look and feel of your home is with new flooring. However, choosing the wrong flooring can make your home lose its aesthetic appeal. Flooring solidifies your home and creates a sense of personal space. It also gives you a tactical way to interact within your space and design. Since your floors are a key design element, it's important to choose the right flooring option with your lifestyle and budget in mind.
Today's hardwood options are countless and can complement any interior decor. Hard surfaces can last for decades, make for a healthier environment by minimizing the effects of dust allergies, and is a versatile floor choice to add a personal flair of custom patterns, borders or specatcular inlays. Depending on the look and feel you want, you can choose a smooth surface or a handscraped look. Wood is also a natural, eco-friendly floor covering that is renewable and recyclable.
For a softer feel, carpet allows an overall comfort to relax and lounge on. It's quieter than a hard surface, offers seasonal comfort for cold winters and those hot summer months. It's also a cost-effective way to add beauty and value to your home.
Vinyl flooring has come a long way and is not your mother's vinyl. With so many design options of vinyl and the latest technology of production, you can have the look and feel of natural elements, such as slate, ceramic, hardwood or stone. Vinyl options also range from sheet vinyl, vinyl plank or luxury vinyl tile. Vinyl is quite underfoot and soft, making it a good flooring option in a kitchen area where people tend to stand for longer periods of time. For high traffic areas, vinyl is a great option for busy households.
Tile has come a long way and is tremendously versatile, allowing for limitless design possibilities. Personalizing your space with mosaic tile and tile murals gives it that added design touch. The durability of tile makes it a great choice for high traffic areas and the maintenance is low and upkeep is simple and minimal.
Like hardwood, a good laminate floor can have a smooth, distressed or textured feel for that tactile appeal. Laminate wood looks can have a natural wood grain pattern that is available in stips or planks. Other design patterns to choose from can be a ceramic, brick or stone look, whichever design course you choose. It is durable, scratch and stain resistant and is also another hypoallergenic option. Laminate also requires minimal maintenance and is a good option for heavy traffic areas.
With so many options to choose from, it's very important to consider the initial purchase cost. While everyone has a budget to follow, you don't want to compromise quality of material and installation. You also want to consider the source of where you're getting your flooring materials. Many big box stores advertise "Never-Before-Low-Prices," but the hidden costs are what they - "Hidden Costs." There are two phrases to always keep in mind for any purchase you make, whether it's flooring, appliances, cars, or anything else: You Get What You Pay For - AND - If You Pay Peanutes, You Get Monkeys.  Happy Designing!