Flooring Companies: Big Box Stores vs. Local Retailers
Flooring Companies: Big Box Stores vs. Local Retailers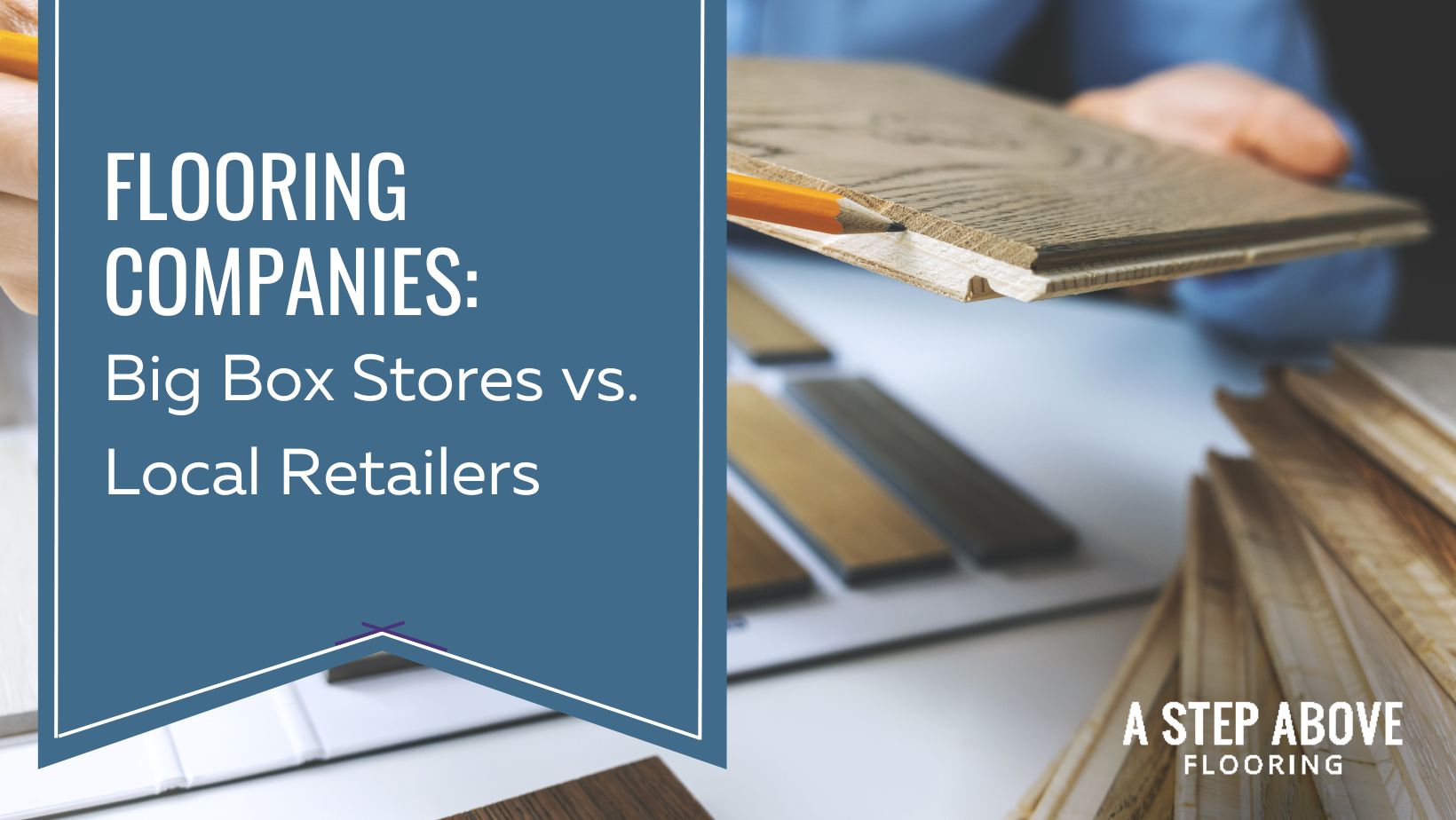 When you are considering getting new floors, there are many things you must accomplish.
You need to determine your budget, the type of flooring material you want to use when you want your flooring replaced, and more. But before you decide on any of those things, you first must decide whether you should shop at a big box store or your local flooring retailer.
Different options will be right for different customers, so the solution comes down to what you need for your flooring.
Small flooring businesses and local flooring businesses are plentiful and there is a reason they thrive going head-to-head with the national flooring box stores.
A Step Above Flooring is a local flooring company, and we have seen all kinds of customers who all have different needs and pain points for their floors.
In this post, we will go over some of the pros of a small or local flooring business, and why you might choose a local flooring retailer over one of the bigger national big box stores.
The Advantages of Shopping at a Local Flooring Store
If you are shopping for flooring, chances are you plan to make your purchase from either a local flooring store or a national box store supplier.
It can be hard to know which option is right for you. Box flooring stores will often offer free carpet installation or a similar deal to try and coax you to buy from them, but take care, these sorts of offers can rarely be taken at face value, and the cost of the installation is often hidden as another cost on the estimate.
That said, here are some of the top advantages of purchasing flooring from a local flooring supplier over a large flooring company.
Local Stores Offer More Personalized Flooring Service
When it comes to quality service, your local flooring supplier has the box store beat.
Local suppliers offer a more personalized service than big box stores. This is because local stores have a better employee-to-customer ratio. Not only that, but the workers at your local store are more likely to have a deeper knowledge of the different types of flooring.
Local flooring stores also do not have to follow a one-size-fits-all corporate sales pitch. Your local salesman wants to be sure that you are satisfied, so they will spend more time with you, give you a thorough explanation of your options, and offer you a tailored solution to meet your needs.
Local Suppliers Have Better Quality Materials
Local flooring stores are owned and operated in your region. That means that quality and customer service are the name of the game.
For that reason, your local flooring store will offer a higher quality of flooring products as compared to the big box stores.
The box stores' business model relies on them making as many sales as possible. To do this, they will often push lower-quality flooring at a lower price tag. This may seem like an attractive offer, but low-quality floors do not last long, and you will find yourself replacing them in just a few years.
Local Flooring Stores Have More Competitive Pricing
Your local flooring supplier has a lower overhead than the big box store. Because of that, they can offer you competitive prices on high-quality flooring and flooring products.
Local stores are also less likely to try and hook you with apparently-fabulous deals (think: "free installation if you buy today!") then hide extra fees in your estimate.
You can expect a fair price and all the services you need, listed plainly at a competitive price.
Buying From Your Local Flooring Store Supports the Local Economy
When you choose a local flooring store over a big box chain, more of the money you spend stays local. Since the owner and employees live and work in the same community as you, they invest their profits back into the community, and as a result, the local economy does better.
In addition, buying locally also promotes sustainability and reduces the negative environmental impact of shipping and transportation.
Quality Floors and Competitive Pricing at A Step Above Flooring
When you are shopping for new flooring for your home or business, you don't want to buy from just anywhere. You need a local flooring business that understands your needs and can deliver the quality and service that you deserve.
For that reason, when you are looking for new flooring, you need to shop with A Step Above Flooring.
The difference is in our name. At A Step Above Flooring, we go a step above the competition to ensure that we understand your flooring needs. We offer the perfect flooring for your home and we are here for you.
Ready for new flooring in the Cincinnati, Columbus, or Dayton area? It is time to stop by A Step Above Flooring today!
Are you satisfied with the difference A Step Above Flooring has made in your home? Leave us a quick google review here!
Don't miss the best free content! Follow A Step Above Flooring on Facebook, Pinterest, and LinkedIn for more of the best flooring tips from your favorite local flooring retailer.