Fourth of July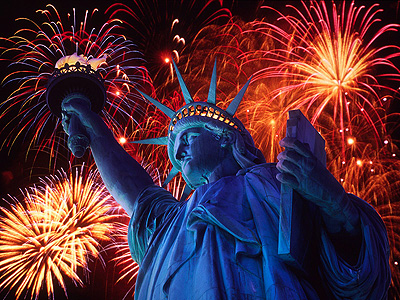 Fourth of July is just around the corner, which means that barbecues, swimming and fireworks abound! It's natural for the Fourth of July, family, friends and fireworks to go together, just like apple pie and ice cream. However, what we don't plan for is for a special gathering to turn into an awful experience. This Fourth of July, consider these safety tips to keep your family safe and your Fourth of July unforgettable!
Leave it to the Professionals
If you plan on using fireworks, make sure they are legal in the area you plan to use them
Attend public firework displays for an awesome experience
When in doubt, leave the lighting to the professionals
If you do live in an area where fireworks are allowed, or you plan on using sparklers or fireworks commonly known as 'trick' or novelty fireworks,' here are some additional tips to follow:
Sparkler Safety
Did you know that sparklers can heat up to 1200 degrees or higher? At that heat, you could melt glass. Instead of handing over these hot sticks to little ones, give them glow sticks that will last throughout the evening and keep them from burning their little hands and arms
Supervise children at all times and around fireworks and sparklers
The National Council on Fireworks suggests that no child under the age of 12 should handle sparklers
Take Necessary Precautions
Use fireworks in a safe area away from dry fields or dry grass, woods or buildings. Always remember to point them away from homes, flammable substances, and people
Never light fireworks indoors
Never re-light a 'dud.' Wait 20 minutes and then put it in a bucket of water
Light fireworks one at a time and then move quickly back
Accident and Injury Preparedness
Keep all spectators at a safe distance
Wear safety glasses when shooting fireworks
Keep a bucket of water and a hose handy
Keep a fire extinguisher nearby and be sure to know how to properly use it
As with any injury, be it great or small, immediately go to a doctor or hospital for medical attention and further consultation
Be safe and have a Happy Fourth of July!