How to Choose Flooring for Your Family Room
How to Choose Flooring for Your Family Room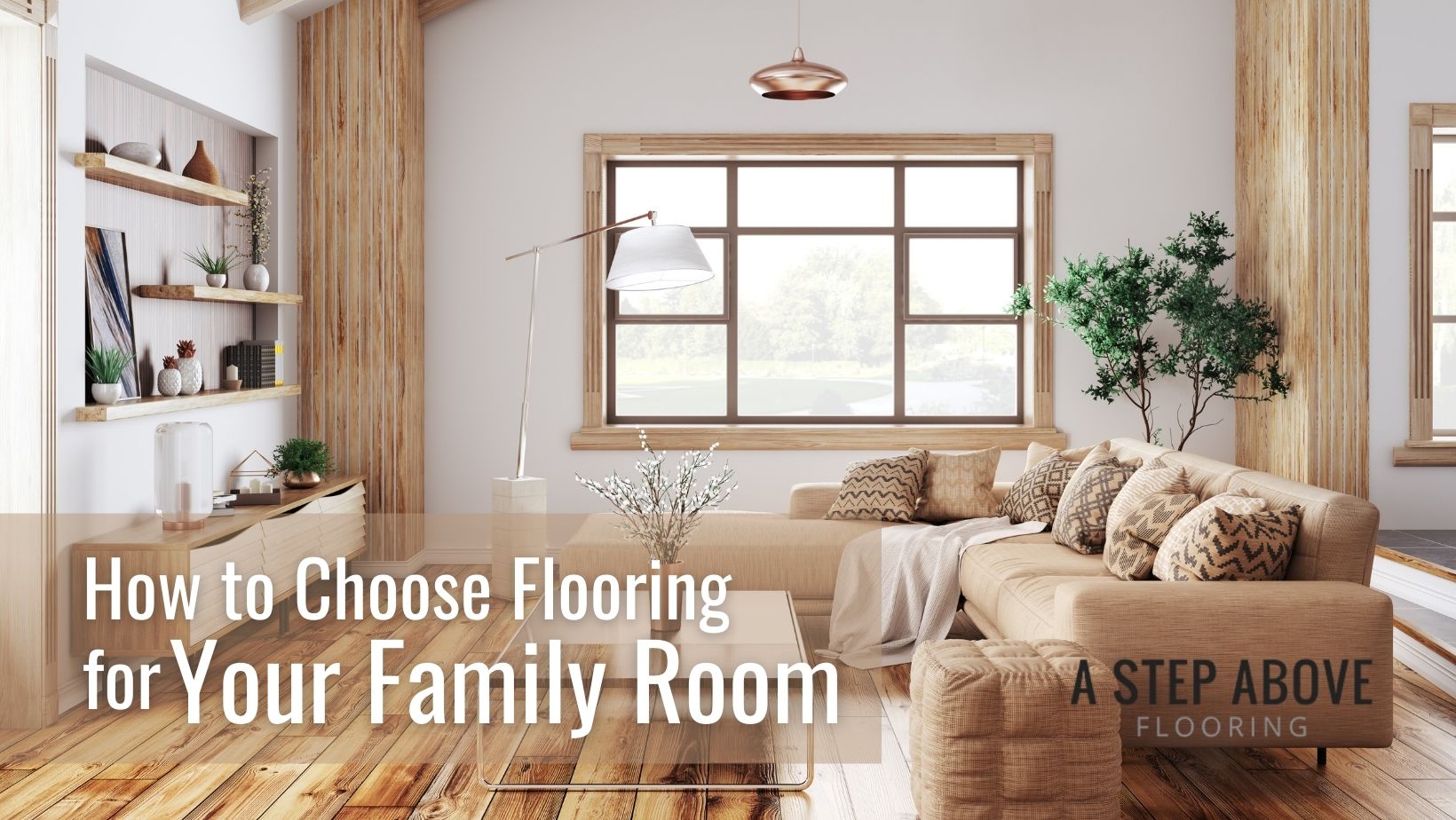 Your family room is one of the most important spaces in your house. Not only is it a space reserved for leisure and relaxation, but it is also one of the only rooms in the house specifically reserved for your family to spend time together. 
Because family time is so important, how you furnish your family room is of equal importance. You want a room that radiates comfort and safety. Your family room should be made for entertainment, but also connection and conversation. 
As with any room, style and comfort start from the ground up.  
Choosing the right flooring for your family room is key if you want it to live up to your expectations. 
But how do you choose the right flooring for your family room while sticking to your budget? 
In this post, we will go over the best flooring options for you to use in your family room.  
Family Friendly Flooring 
Choosing flooring is not easy for any room in the home. It can be especially difficult to find the perfect flooring for your family room as many people spend most of their home life there.  
Though it will not be an easy decision, below are some of the most popular options for family rooms.  
Hardwood Floor 
Though you may be initially tempted to opt for a softer option, there is a reason hardwood floor is so popular for family rooms.  
First, many people choose to install hardwood floors then cover them with a stylish area rug. That way they get the best of both worlds, a luxurious carpet framed by beautiful hardwood.  
However, many people also choose to forgo carpet altogether and instead go for the attraction of bare hardwood.  
Hardwood matches almost any style and provides a warm, welcoming charm perfect for snuggling with your loved ones next to a blazing fireplace.  
Carpeting 
Although not as popular as it once was, area carpeting is a great way to envelop your family room in a soft, homey glow.  
There is little as comforting as kicking off your shoes after a long day of work to be greeted by the soft carpet of your family room. 
While area carpeting does add a welcoming charm to your home, many people worry that the carpet they choose will quickly go out of style and they will need to replace it in a matter of years.  
To avoid gaudy carpets a few years down the line, opt for carpeting that makes use of neutral colors and tones and forgoes any flashy patterns or designs. Carpeting works best when it achieves a timeless, adaptable look.  
Vinyl Flooring 
Vinyl flooring is one of the most popular options when the style is the highest priority. Vinyl flooring is both attractive and durable, and it can mimic many other types of flooring (such as wood or stone).  
Vinyl is often chosen for family rooms over more natural elements because it tends not to get cold the same way other materials do.  
Add to that, vinyl is notably durable and easy to clean. That means that even family rooms with the highest levels of wear and traffic are a suitable option for vinyl flooring.  
Your Family Room is Homebase 
When you choose to floor for your family room, there are several lifestyle factors you need to consider.  
How large is your family? Do you have pets or children? What is the expected level of wear and tear your family room will see?  
The answers to these questions will help you determine what kind of flooring your family room needs. For example, a nuclear family with five children will need different flooring than a family of one. 
There are many excellent options to choose from when selecting new floors for your family room, but without a trusted guide you will quickly become lost.  
If you are ready for a local business you can trust to help you find the perfect flooring for your family room, then A Step Above Flooring is the perfect fit for you. We focus on the value of the customer to ensure that we never sacrifice selection or quality of installation.  
When you need a flooring store that is truly A step above the rest, reach out to A Step Above Flooring.