Reclaimed Hardwood Flooring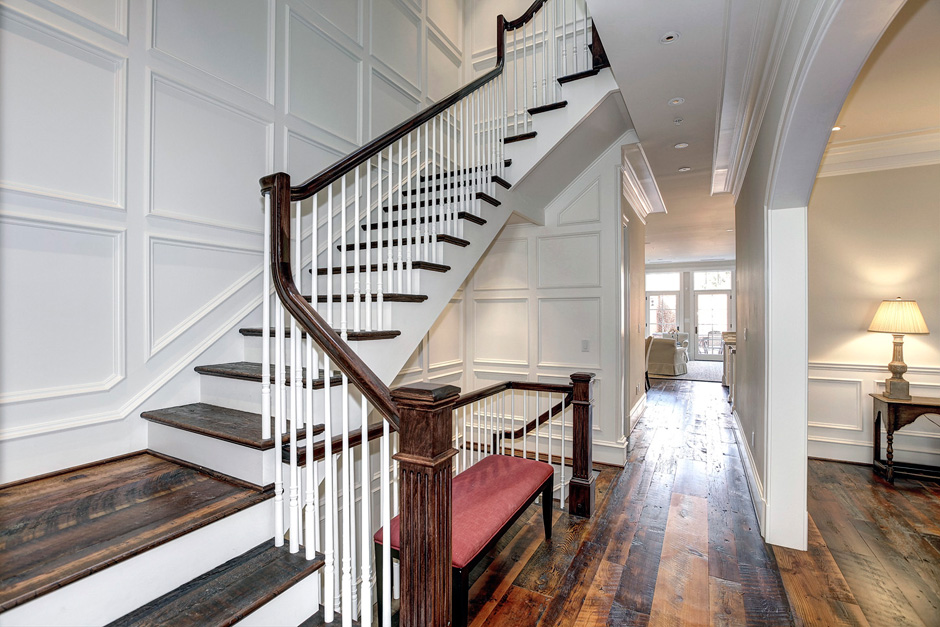 What started as a niche product that served only an exclusive sector of the flooring industry, reclaimed hardwood flooring has not only become a much higher demanding product in today's market, but it also comes with a very unique story to tell, brings texture, interest and warmth to your home.
Reclaimed wood is wood that was logged around 100 years ago or more. It comes from an existing structure, salvaged from a dismantled old barn, old public building, fence, or even an old lumber mill. Just think "If these walls or floors could talk…" What a story they would tell! Reclaimed wood may also come from old-growth trees instead of first-generation trees. These timeworn qualities can undoubtedly make for romantic appeal for a dream home you're hoping to build or an existing home you're remodeling. As with all products, however, there are things to consider in order to make the best choice for your lifestyle. Here are some points to ponder:
         The legitimacy of reclaimed lumber has been a risk in the past as there are dealers out there that will make false claims on their products. Some dealers have actually marketed lumber that came from old, broken down pallets as 'reclaimed lumber.' Think Pinterest… Purchase reclaimed lumber from a reputable dealer to make sure you're purchasing 'true' reclaimed lumber
         If you purchase from a non-reputable or non-certified dealer, you also run the risk of improper milling, grading and kiln-drying. If the wood is not kiln-dried to industry standard, wood-boring insects may still be present in the wood
         Although reclaimed wood has become more competitively priced over the past few years, it can still be more expensive than virgin wood because of the process it undergoes. Since there isn't really a uniformed grading standard for the reclaimed market, it's important to remember that reclaimed hardwood is very labor-intensive to properly grade/prepare and mill the material
Why you should consider reclaimed hardwood:
         Reclaimed wood is a natural resource and is being 'reused.' Many exotic woods are becoming a harvesting no-no because of their vital role in the earth's ecosystem. Using reclaimed wood can decrease deforestation as well as the demand for newly sourced lumber. It also helps to keep our landfills 'less-filled'
         Reclaimed wood can be up to 40 points harder on the Janka Hardness Scale than virgin woods because they come from old-growth trees and not those planted just for immediate harvesting
         It is becoming more competitively priced when comparing to custom-produced wood flooring options
         Reclaimed wood has age and character that cannot be imitated. The age and weathering of the wood is something difficult to find in new materials, making it much more unique
         There are multiple uses for reclaimed wood, such as hardwood flooring, decking, walls, paneling, kitchen countertops, and kitchen cabinets
Reclaimed hardwood has a story to tell… now tell your story.