The Perfect Area Rug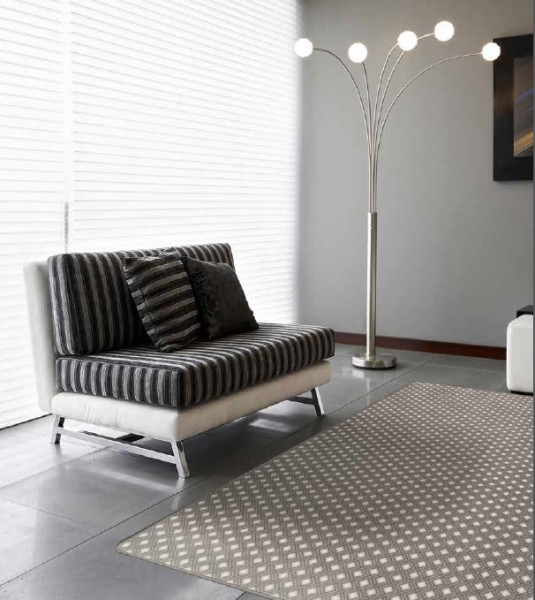 Buying area rugs for your home can be rather daunting. They create such a huge impact for such a small space, generating a lot of visual energy, as well as curiosity. From a physical perspective, they certainly can add cushioning to you step and help absorb sounds within rooms. From an aesthetic perspective, they make a room feel more layered, creating a more pulled together, professional look. So… how do you go about choosing the right area rugs for your home? 
The main contributing factor in choosing an area rug is generally the budget.  Your budget may not be very large, so you might want to live with bare floors and save for an area rug that you know will last a long time. As they say, you get what you pay for. How true is that! Once you determine your budget, take a few other things into consideration:
Traffic Patterns – There are three ways you can determine your traffic patterns throughout your home:

High traffic – Areas such as hallways, family rooms, entry ways (foyers) and kitchens tend to have the highest traffic. For high traffic areas, you want to look for more durable, stain-resistant area rugs
Medium traffic – Rooms that are often less travelled, such as a home office or dining area, are considered medium traffic areas. For medium traffic areas, consider man made rugs, hand-knotted or hand-tufted area rugs
Low traffic – Guest rooms, bedrooms and formal living rooms are considered to be low traffic areas. For these areas, you have a wide variety to choose from because you can go as minimal or as luxurious as you want
Quality Counts – When you're buying a set of sheets, the higher thread count the better.  It's similar to buying an area rug: 

Hand-knotted Rugs – Choosing a hand-knotted rug means you're getting one of the most durable rug practices out there. They also have the finest detail.  Although an ancient technique, it's still widely used today. When choosing, look at the number of knots per square inch. Like high thread count, the more knots per square inch, the better. They can vary from 40 to 1200, so choose the higher number
Hand-tufted Rugs – These rugs are half man-made, half machine-made. They also have a cotton backing that is glued on the underside, protecting the floor
Machine-made Rugs – Machine-made rugs are generally one third the cost of a hand-knotted version but are very durable in most respects
Natural Fibers – Natural fiber area rugs, such as Jute, Sisal and Seagrass, are environmentally friendly, renewable and use fewer chemicals in production. They are often reversible and have no pile. These types of rugs are perfect in entry ways, or other medium-to-high traffic areas. Considered highly durable, natural fiber area rugs may not be the softest rug out there. If you're looking for a soft seat, you might want to look at other alternatives
Rug Pads – Also known as underlays, rug pads provide multiple benefits for your area rugs:

Add years to the life of your area rugs
Provide additional comfort and softness
Prevent slipping and keep rugs in place to prevent falls
Protects the floor underneath
Once you find the type and style of area rug for your home, the most important consideration when choosing 'the one' is to make sure that it 'speaks to you…' Every time you look at it, you want to feel as though you're looking at it and feeling it for the first time… every time.