Is My Floor Causing My Allergies?
Is My Floor Causing My Allergies?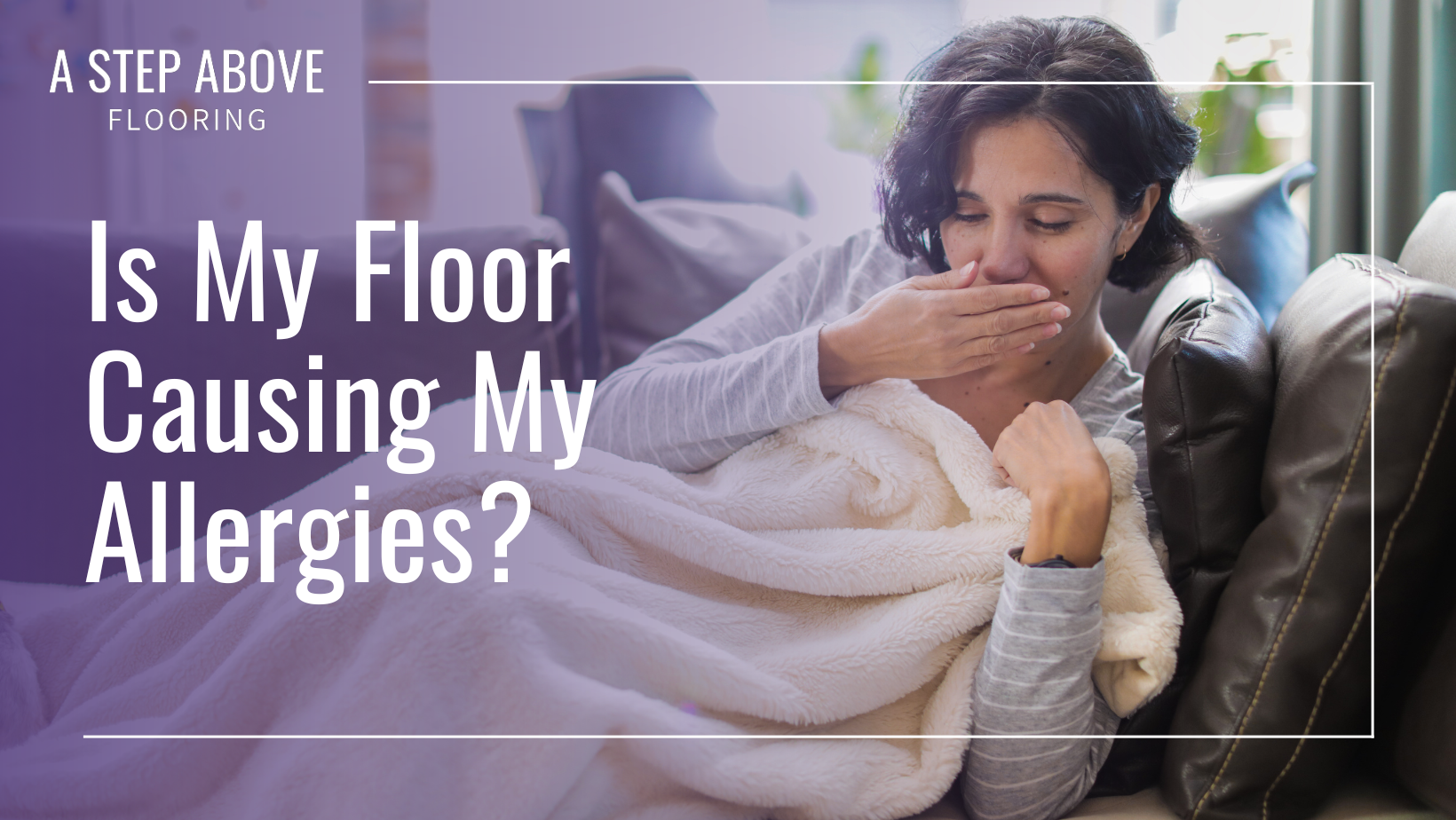 This time of year, allergies are running rampant.
If you are sniffling, suffering from itchy eyes, or otherwise wrestling with the woes of allergies, then you know how important it is to remove yourself from the culprit.
For some the source of allergies is a dog or cat, for others, it is the pollen in the air. However, one of the most often overlooked sources of allergies is your floors.
According to the Centers for Disease Control (CDC), over 50 million Americans struggle with allergies annually.
Many people try to allergy-proof their homes, yet they forget about their hardwood floors. Just because the wood is from a dead tree, does not mean it will not upset your allergies. There are dozens of different allergens that can upset your body, including mold, mildew, dust, dust mites, and pollen, just to name a few.
Hardwood scratched and scored by pets? Check out this quick guide for protecting your hardwood from your pets!
These allergens easily hide in your wood floors and can rise into the air with each footfall.
In this quick guide, we will go over the best floors for allergies, and how you can save yourself from suffering allergies if you do have flooring that doesn't mesh with your body's immune system. Keep reading and your sinuses will thank you!
Fighting Back Against Flooring Allergies
Your allergies should not control your life. However, if you have flooring that is causing your symptoms to stir, then you may be thinking of solutions to end your suffering.
So, what are the best floors for allergy sufferers? And what do you do if you have floors that aggravate your allergies?
Both hardwood and carpet can harbor unfriendly allergens that can cause your sinuses and head to throb and ache. So, if you have noticed an uptick in your allergies this year, your floors may be the culprit.
What to Look for In a Floor
At this point, you probably want to know, what is the best flooring for allergy sensitivity?
A Step Above Flooring has put together a quick list of what makes for the best hypoallergenic flooring.
The best rule of thumb is that you should avoid soft surfaces. That means that carpets are the worst culprit, but even if you stick to hardwood only, you can still have problems.
It is also best to remember that you may be sensitive to chemicals, so natural options are your safest choice.
One of the best flooring options for keeping your allergies under control, laminate and vinyl are easy to clean and do not harbor allergens easily.
These flooring types contain limited natural materials so it is important to maintain and clean these floors or else your allergies will rear their head.
Another allergy-friendly flooring, stone and tile leave allergens no place to hide. These are excellent floors for dust mite allergies.
Tile and stone are easy to clean and have tight sealing to ensure that pollen and dust cannot hide.
Hardwood is a good option for ebbing your allergies, but it is not perfect. It is a flat surface and easy to keep clean, and so long as it is properly coated, allergens cannot hide in between the gaps between your planks.
It is no surprise that some hardwood is better than others, so if you are sensitive to wood, be sure to talk with the flooring experts at A Step Above Flooring.
Look, it might not be the prettiest option, but when it comes to floors that are resistant to allergens, concrete is king.
There is no place to hide from allergens and concrete is easily cleaned, lasts a long time, and is nearly maintenance free.
A Step Above Floors Keeps Your Allergies Under Control in Cincinnati, Columbus, and Dayton
For allergy sufferers, improper flooring can spell torture.
Carpets are the toughest flooring for allergy sufferers as they are a great home for dust, dander, and pollen.
However, if you suffer from allergies and still love carpet, there are options for you. For example, Mohawk's Air.o carpet, a premium hypoallergenic carpet that is easy to clean, offers maximum airflow, releasing more dust and dirt with each vacuum cleaning. In addition, the Air.o carpet boasts a CRI Green Label Plus, meaning it does not release harsh chemicals or emissions into the air.
Are your floors a lost cause? Here's when you know it is time to replace your hardwood floors.
But flooring threats to your allergies do not stop with carpet. Improperly maintained hardwood can be just as hazardous.
If your hardwood's sealant has broken down, or your floors are made from a wood that aggravates your allergies, then you will have a hard time feeling healthy all season long.
If you are looking for the best flooring for allergy sufferers, then the only place to go is A Step Above Flooring.
At A Step Above Flooring, our flooring experts know the best floors for allergy sufferers, and we can reseal hardwood floors that are causing you problems.
If you are ready for the best floors for your home that won't upset your allergies, then it is time to stop by A Step Above Flooring today!
Did we go A Step Above the rest? Leave us a quick five-star review on Google here!
Don't miss out on the best content! Follow A Step Above Flooring on Facebook, LinkedIn, and Pinterest for more free flooring tips and advice!