Recognizing When to Refinish vs. Replace Hardwood
Recognizing When to Refinish vs. Replace Hardwood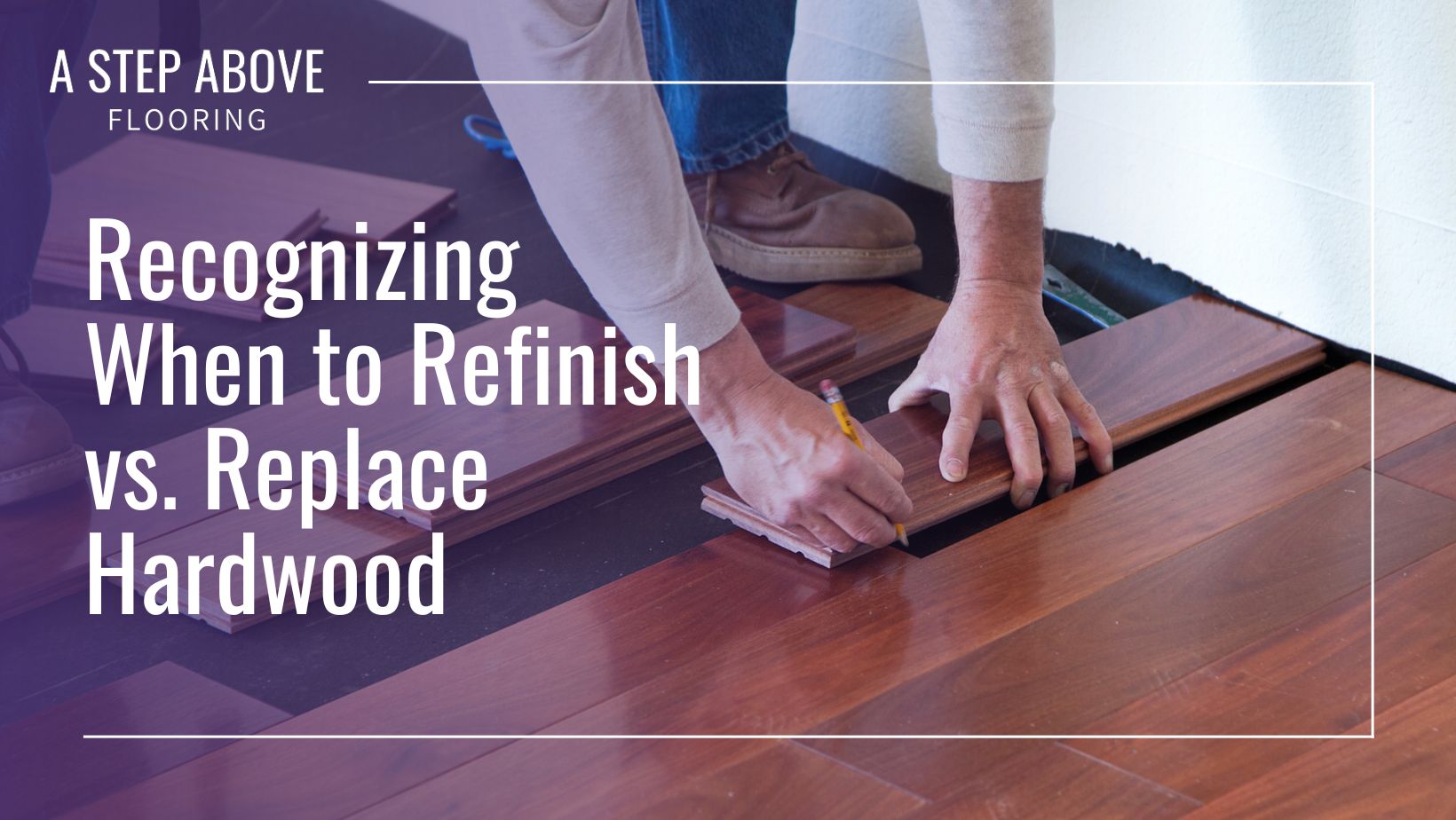 We all love our hardwood floors.
But in truth, those scratches and gouges seem to catch our eyes more these days than the pristine, natural beauty of the wood.
Hardwood floor owners know that maintenance is key to healthy hardwood floors, but when do you reach the point where your hardwood needs to be replaced?
Many Cincinnati, Columbus, and Dayton homeowners adore their hardwood but have serious questions about when to refinish hardwood flooring, whether hardwood damage is superficial, and when hardwood flooring should be replaced.
It all starts with prevention. Learn more about protecting your hardwood flooring here!
Depending on the condition of your floors, you may need to have them refinished or even replaced. However, it can be difficult for homeowners to know when it's time for one or the other.
In this post, we'll go over the key signs that it's time to either refinish or replace your hardwood floors.
Use this Guide to Determine When to Refurbish or Replace Hardwood Floors
One of the biggest mistakes that hardwood floor owners make is thinking they need to replace their hardwood floors when all they need is a refurbishment.
Hardwood floors last almost 100 years, and some last much longer. Simple care and maintenance keep hardwood looking beautiful for a lifetime. To rejuvenate floors, all it takes is a little sanding and refinishing.
Depending on the lifestyle of the home, hardwood floors should be refinished by a hardwood professional every 10-15 years and 10-12 throughout their lifetime.
Check out this quick guide on refinishing versus replacing hardwood floors in Ohio.
Refinishing
Refinishing hardwood floors involves sanding down the top layer of the wood to remove scratches, dents, and other signs of wear and tear. After the floors have been sanded, a new layer of finish is applied to protect the wood and give it a fresh, polished look. Refinishing is typically recommended for floors that are showing signs of wear but are still in good overall condition.
Some signs that it's time to have your hardwood floors refinished include:
Scratches and dents on the surface of the wood


Fading or discoloration of the finish


An uneven texture on the surface of the wood
If your hardwood floors are showing any of these signs, a refinishing job may be all that's needed to restore them to their former beauty.
Want more about the signs of deterioration in hardwood? Check out this quick guide!
Replacing
If your hardwood floors are in poor condition and cannot be restored through refinishing, then it's likely that they'll need to be replaced. Replacing hardwood floors involves removing the existing wood and installing new planks. This is a more invasive and costly process than refinishing, but it's necessary if your floors are in bad shape.
Some signs that it's time to have your hardwood floors replaced include:
Extensive water damage or rot


Warping or cupping the wood


Large gaps or cracks between the planks


Sagging or uneven floors
If your hardwood floors are showing any of these signs, a replacement may be the best option.
Learn more about the signs it is time to replace your hardwood here!
Hardwood Refinishing and Replacement in Cincinnati comes from A Step Above Flooring
Your hardwood flooring is the crown jewel of your home. As such, it needs attention and care to keep it looking its best.
When it comes to maintaining your hardwood floors, it's important to recognize when it's time to refinish or replace them. By paying attention to the signs of wear and tear, you'll be able to make an informed decision about what needs to be done to keep your floors looking their best.
How do you know what wood to use as a replacement? Check out this guide on the Janka Hardness Scale!
Time to refinish or replace your floors in Cincinnati, Dayton, or Columbus, Ohio? Then it is time to reach out to A Step Above Flooring! We are Ohio's best flooring company, and it only takes a quick phone call or email to see why!
Our seasoned pros know what it takes to keep hardwood floors looking their best, and we have the skills and knowledge to make your floors look better than ever.
Reach out to A Step Above Flooring now!
Happy with the difference A Step Above Flooring has made in your home? Leave us a quick review on Google here!
Don't miss out on the best! Follow A Step Above Flooring on Facebook, LinkedIn, and Pinterest for more fabulous and free flooring tips!