Your Guide for Carpet Fiber and Pile Cut
Your Guide for Carpet Fiber and Pile Cut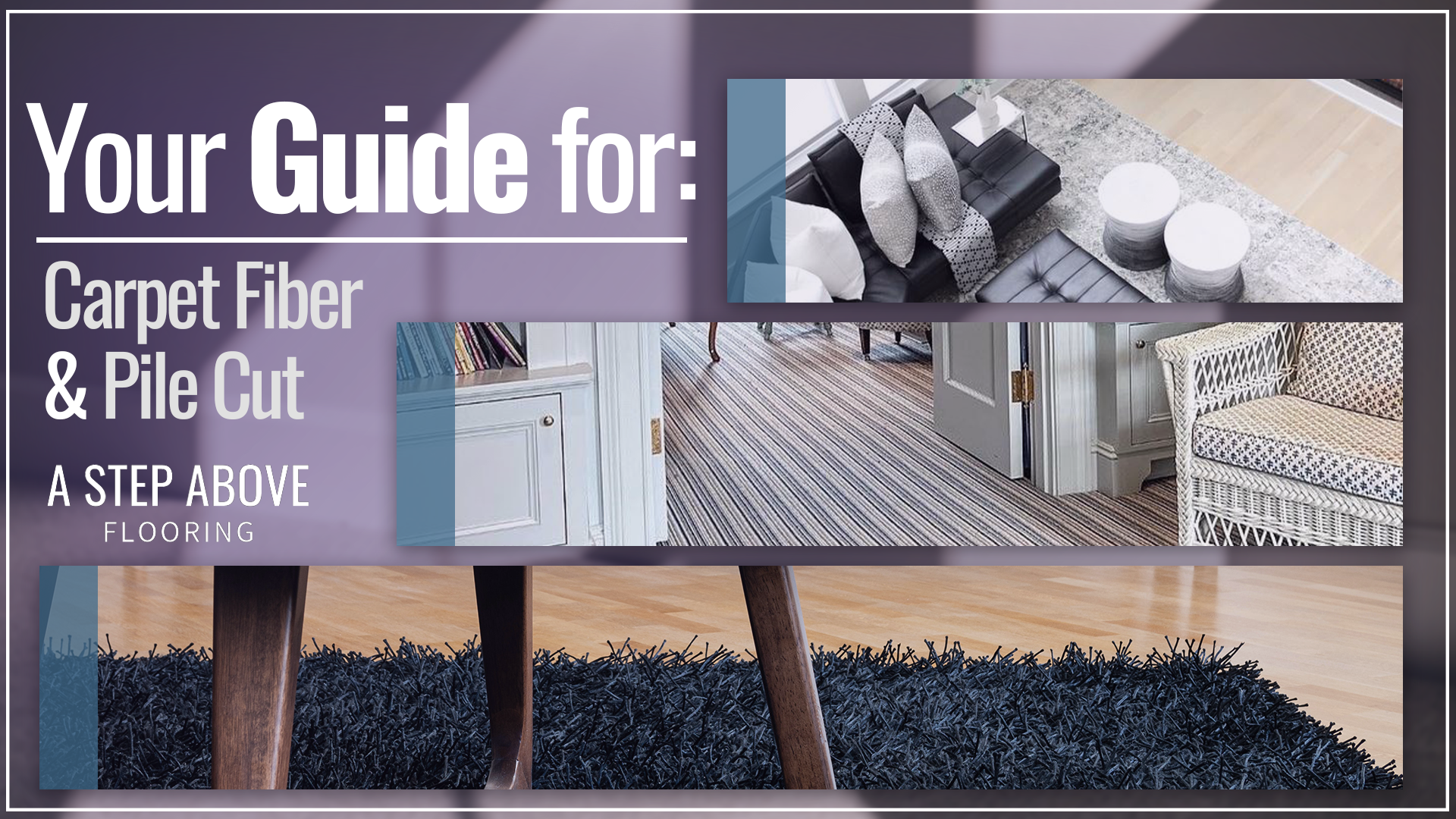 Carpet fiber and pile cut are the two key features in different types of carpet.
Carpet fiber is the natural or synthetic material used to make loops. Pile cut is how the loops of fiber are treated and at what length and angle they are cut.
In this post, we will provide information on different types of carpet fiber and pile cut.
What is Carpet Fiber, and What Are the Types?
Carpet fiber is the material, natural or synthetic, that your carpet is made from.
Let's take a look at some of the top carpet fiber types for both natural and synthetic fibers.
Nylon
One of the most popular carpet fibers, nylon is a synthetic material that is comfortable underfoot, durable, and easy to clean.
The National Floor Covering Association estimates that two-thirds of all synthetic carpets are made of nylon. Because of this, you will not have to worry about Nylon going out of style.
Olefin (or Polypropylene)
Soft and stain-resistant, olefin is meant to mimic wool in feel and appearance.
While it is hard to stain olefin, it is known to collect dirt. Additionally, olefin is not as resilient as nylon meaning it is often used for loop-style carpets like Berbers.
Polyester
Polyester's main appeal is that it can hold vibrant colors that are slow to fade over time.
A synthetic material, polyester is more hypoallergenic than most carpet fibers. In addition, polyester is often made from recycled plastics, meaning it is an eco-friendly material.
Wool
A natural material, wool is luxurious, durable, and soft.
High-grade wool often comes with a higher price tag, but also higher levels of satisfaction.
Wool can be prone to staining, so some manufacturers will combine wool with synthetic materials to give you the best of both worlds.
Need more information on carpet material? Check out this quick guide!
What is Pile Cut in Carpets?
While carpet fiber is the type of material used to create the carpet, pile cut is how those fibers have been cut (or not cut), and at what angle the cuts were made.
Let's talk about the different types of pile cuts.
Cut and Loop Piles
A loop pile, known as an uncut pile or Berber pile, is a carpet pile that leaves the entire fiber loop intact on the surface of the carpet.
Meanwhile, a cut carpet pile is a carpet style where the exposed fibers have been sheared off for a softer, easier-to-clean surface.
Loop pile carpets are durable, mess-resistant, and resilient to footfall and vacuum cleaners. Loops come in various sizes and lengths for different levels of softness and durability.
Cut carpet piles are often softer and easier to clean than their looped counterparts, and different varieties include different lengths and thicknesses. However, cut carpet piles are more prone to footprints and vacuum trails.
Saxony Cut Carpets
A Saxony cut carpet pile refers to a carpet where the fibers are very soft and dense. Short fibers stand up straight to create a lush, fuzzy surface.
However, these short fibers are more easily crushed underfoot. Because of this, Saxony carpets are less durable than other pile cuts.
Plush Cut Carpets
This variation of cut pile is famed for its short, dense fiber length (even more so than Saxony cut), which creates a decadent and ultra-soft surface.
However, plush cuts are more prone to showing footprints and vacuum marks.
Textured Cut
A textured cut is a carpet pile where the fibers are cut to uneven lengths. In addition, the fibers are twisted into spiral strands using a steam treatment that curls individual strands.
This style of kinking the fibers is sometimes called trackless as it shows less footprints or vacuum traces.
Cut & Loop
Sculpted or sculptured pile cuts contain a combination of looped and cut fibers. This creates height and texture variations in the surface of the carpet which creates a unique three-dimensional texture.
The fiber cuts can be the same length, called level cut and loop, or they can be different heights, called textured cut and loop. Either way, sculpted piles provide a unique surface that you will not find with other pile cuts.
Frieze-Cut Piles
A frieze-cut pile is a carpet with relatively long cut fibers that have been twisted together or kinked. This process causes the fibers to curl across the surface of the carpet for an incomparably comfortable texture. This pile cut is famously durable and hides dirt and wear well.
Your Next Carpet from A Step Above Flooring
Finding your next great carpet is never easy.
That is why at A Step Above Floors, we work with you directly to choose a carpet that works well for your home.
When is it time to replace your carpets? Check out this guide!
If you are ready to find your next great carpet in Cincinnati, Dayton, Northern Kentucky, and Southwest Indiana, stop by the A Step Above Flooring showroom today!
Want more on carpeting and other types of flooring? Follow A Step Above Flooring on Facebook, LinkedIn, and Pinterest for the best free flooring content!
Did we go a step above the rest? Let us know by leaving a quick five-star Google review here!