Bathroom Floor Trends of 2023
Bathroom Floor Trends of 2023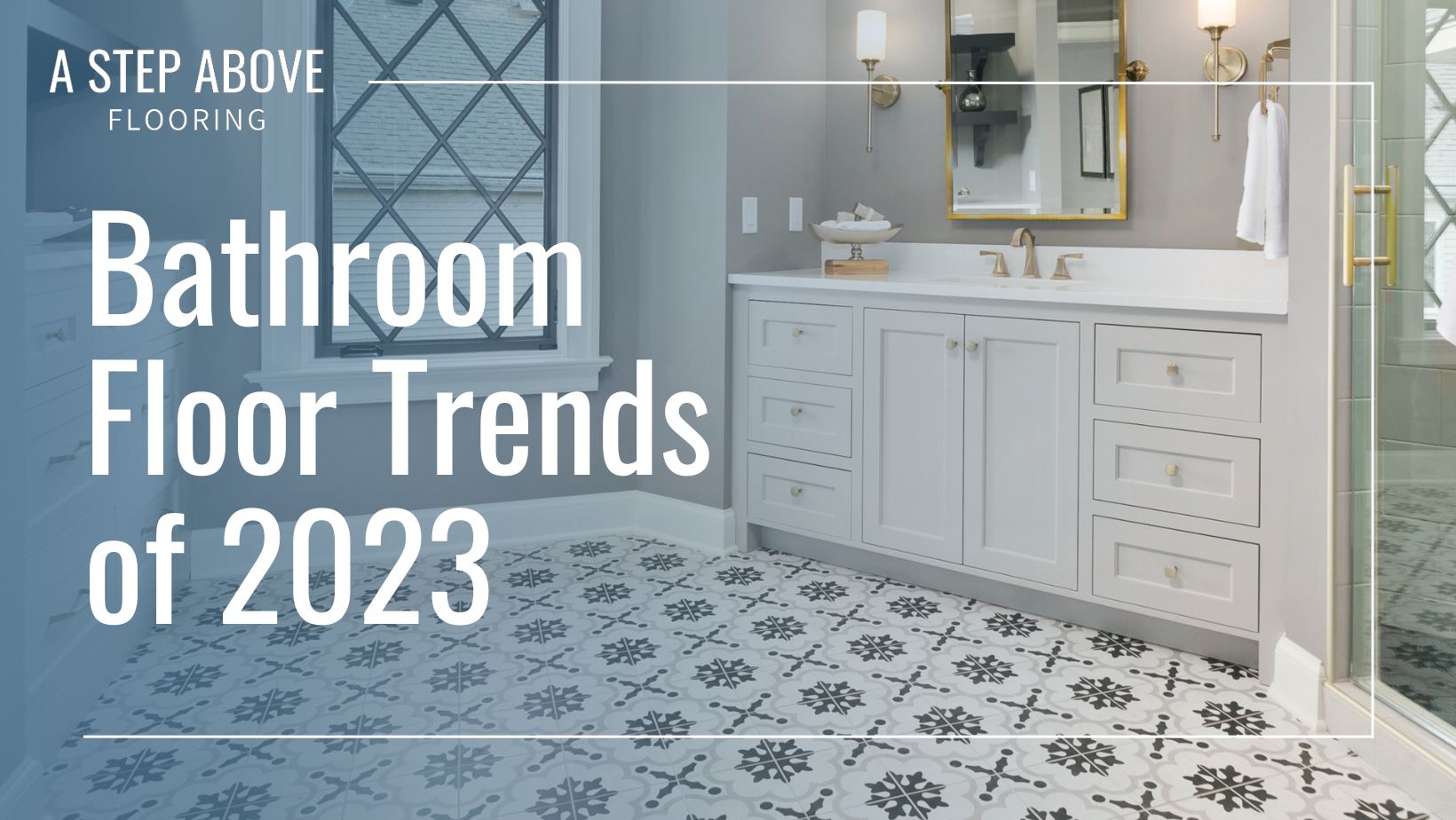 Are you looking for new bathroom floors in 2023?
Choosing the right material and style for you is not an easy choice! Every home has different needs for its bathroom, and because of that, no two homes will need the same bathroom floors.
Feeling nostalgic? Check out our 2022 bathroom flooring guide!
So, how do you know what material and style is right for you?
The material you chose must be easily cleaned, durable, and waterproof. Remember that your bathroom will encounter frequent water spills, so you will also want an anti-slip surface.
Looking for low-maintenance flooring? These are the top choices!
But beyond utility, you need a style that appeals to your tastes, and modern trends, and fits in with your home décor.
In this post, we will explore some of the top bathroom flooring trends of 2023, and how you can get durable and water-resistant materials without sacrificing style.
Top Bathroom Floors to Consider for 2023
Bathroom floor trends in 2023 are better than ever before! From durable, non-slip surfaces to natural eco-friendly options, all of the flooring types listed in this article are stylish and perfect for your bathroom.
Is your bathroom a tight space? Use these tips to make it feel more spacious!
For style, the name of the game is clean lines, easy maintenance, and natural colors. Let's dive in!
Ceramic Tile is Your Style!
Last year's number one trend was mosaic tile. This is still an excellent choice, but for 2023, uniform, naturalistic ceramic tiles will be the norm.
White, beige, or blue ceramic tiles create a calming effect in your bathroom that helps project an air of growth and peace in your bathroom sanctuary.
Looking to make your bathroom truly unique? The applications of ceramic tiles are endless! Match colors, create patterns, or create a tile backsplash. Ceramic tiles are stylish, cool to the touch, and have an excellent anti-slip surface that is perfect for your bathroom.
Bask in the Elegance of Marble
One of our rising materials in 2022, this year marble is leading the pack!
Marble is an elegant, visually intriguing material that suits any style or purpose. Each marble slab has a unique vein pattern that makes your bathroom completely bespoke! Transform your bathroom from just another room to an opulent sanctuary where you can find peace.
A staple of Greek and Roman design, marble will work for you too!
Matte is All That!
Not a material, but mark our words, the matte style is going to be huge in 2023!
Matte is defined as a surface that is dull, flat, and without shine. It radiates a calming understated look that blends in with any pre-existing style or design.
Want cozy floors? Here is our guide for keeping your floors warm and cozy!
Look for the matte style on materials like porcelain or ceramic. It is the perfect fit for any type of bathroom as matte will never overwhelm with gaudy colors or overstay its welcome with overly trendy stylization.
Stone is Cool to the Touch
Stone cracked our list last year and it has stayed strong on our rankings!
2023 is all about returning to nature. What better way to embrace naturalistic design than to choose the cool, steadfast style of stone tiles? Natural stone gives your home the visceral hues of the Earth and provides a reliable, calming presence.
The best part about stone is that it comes in many different colors and patterns so you can make your bathroom floor entirely your own!
Not only that, but stone is a durable and water-resistant material perfect for those who want a textured finish or pattern. What can you do with cool, naturalistic stone tiles in 2023?
Geometric Floor Tiles
We know that clean lines and calming colors will be in for 2023. Because of this, geometric tiles are a rising trend that you should keep an eye on and consider for your bathroom.
Sizable patterns mixed with soft-touch finishes and minimalist or modern designs are the way to go with geometric patterns. Trying mixing and matching neutral tones for a sleek and welcoming look that will never go out of style.
Considering vinyl? Here is everything you need to know!
New Year, New Bathroom Style
Your bathroom should be one of your most important sanctuaries. It is a room of comfort and style where you can get ready for your day and refine your appearance.
As one of the most private rooms in your home, it is easy to forget about your bathroom flooring.
You deserve bathroom floors that match your style and meet your needs.
Regardless of what material and style you choose, it is important that your bathroom floors are non-slip surfaces, easy to clean, and water-resistant. If you are looking for alternative sources, you can even use recycled or repurposed materials.
Is your hardwood floor on the outs? Learn how you can tell when it is time to replace your hardwood floors here!
If you are looking for the best selection of flooring at the best prices, then it is time to stop by A Step Above Flooring today! We know that flooring is the most important aspect of your home and we will not rest until all your flooring needs are met.
Ready for the 2023 bathroom flooring upgrade of your dreams? Stop by our Cincinnati showroom today!
Don't miss out on the best free flooring tips! Follow A Step Above Flooring on Facebook, LinkedIn, and Pinterest today!
Are you satisfied with the difference A Step Above Flooring made for your home floors? Leave us a quick Google review here!