Carpets to Tiles: A Journey into Flooring Options
Carpets to Tiles: A Journey into Flooring Options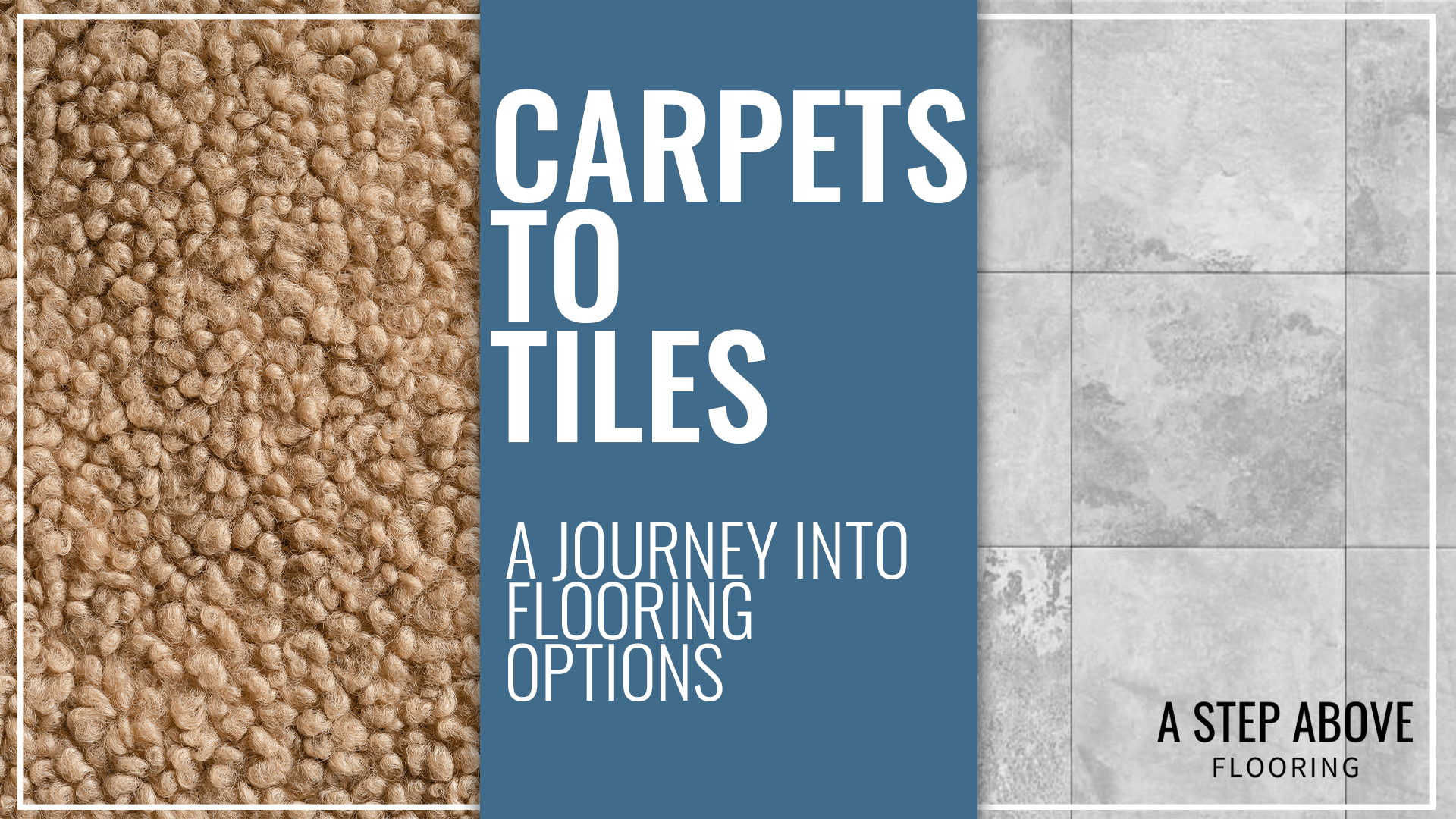 Renovating your home is an exciting time. It is the culmination of months or years of planning, saving, and imagining ways to better use your space.
One of the most important parts of any home renovation project is selecting new floors for a given room. This process can be daunting, especially as there are so many different styles and varieties of floors to choose from. It can sometimes feel that if you pick the wrong one you can inadvertently ruin your entire remodeling process.
From hardwood to carpet, there are dozens of different flooring types for you to choose from and many different styles to match, from ultra-modern to rustic and cozy. 
This post will tell you how to pick the right flooring type based on your needs, so you are happy with your home renovation every time. 
Flooring Options and When to Consider Them
When it comes to flooring options, there are several choices available that can suit different preferences and needs. Four popular options include carpet, hardwood, vinyl, and laminate. Each type of flooring has its own unique characteristics and benefits.
So, when should you consider each type of flooring? Keep reading to learn more about the four types of flooring mentioned above and how you can know which option is best for you and your lifestyle.
Carpet
Carpet is an excellent choice for homeowners who prioritize a soft and comfortable feel underfoot. It creates a cozy atmosphere in bedrooms, living rooms, and other spaces where comfort is key. Additionally, carpet provides insulation and absorbs sound, making it perfect for creating a quieter and more peaceful home environment.
When considering carpet styles, homeowners have a wide variety to choose from. Some popular options include plush, textured, and frieze carpets. Plush carpets have a smooth, velvety surface, while textured carpets have a more casual and relaxed appearance. Frieze carpets, on the other hand, feature twisted and curled fibers for a unique and modern look.
Carpet materials also vary, with options such as nylon, polyester, and wool. Nylon is known for its durability and stain resistance, making it a practical choice for homes with high foot traffic. Polyester offers a wide range of colors and patterns, as well as excellent stain resistance. Wool, a natural fiber, is highly resilient and offers excellent insulation properties.
One of the main benefits of carpet over other types of flooring is its superior comfort and warmth. Unlike hard flooring surfaces, carpet provides a soft and cushioned feel underfoot, making it perfect for families with young children or elderly individuals. Additionally, carpets can trap dust, allergens, and other pollutants, preventing them from becoming airborne.
Learn more about carpet fiber and pile cut here!
Hardwood
When it comes to flooring options, hardwood is a popular choice among homeowners. There are several reasons why a homeowner might choose hardwood for their floors.
Firstly, hardwood floors offer a timeless and elegant aesthetic appeal. With its natural beauty and variety of grains and finishes, hardwood can effortlessly enhance the overall design and style of any room. It also provides a classic and traditional look that can complement any decor.
Secondly, hardwood floors are incredibly durable and long-lasting. With proper care and maintenance, hardwood can withstand heavy foot traffic, making it suitable for both residential and commercial spaces. Unlike other flooring options, hardwood can be sanded and refinished multiple times, allowing it to retain its original quality and appearance for many years.
Additionally, hardwood floors are highly versatile. There are various styles and types of hardwood to consider, including oak, maple, cherry, and walnut. Each type of wood has its own unique grain patterns, colors, and characteristics, allowing homeowners to choose the perfect flooring that suits their preferences and needs.
Lastly, hardwood floors are known for their easy maintenance and cleanliness. Unlike carpets, hardwood does not trap allergens, dust, or pet hair, making it an ideal option for individuals with allergies or respiratory sensitivities. Regular sweeping or vacuuming and occasional mopping are all that is needed to keep hardwood floors looking pristine.
Different species of wood have different hardness ratings. Learn more about the Janka Hardness Scale here!
Vinyl
Vinyl flooring has become a popular option for homeowners for several compelling reasons. Firstly, vinyl flooring comes in a wide range of styles, allowing homeowners to choose from options that mimic the look of hardwood, tile, stone, or even more unique designs. This versatility makes vinyl suitable for any room in the house, including kitchens, bathrooms, and basements.
One of the major benefits of vinyl flooring is its durability. Vinyl is highly resistant to scratches, stains, and water damage, making it an ideal choice for high-traffic areas or homes with pets and children. Additionally, vinyl is typically more affordable than hardwood or tile, making it a cost-effective option for budget-conscious homeowners.
Vinyl flooring is also known for its low maintenance requirements. Unlike hardwood which requires periodic sanding and refinishing, vinyl simply needs regular sweeping and occasional mopping to keep it clean and looking its best. It is also resistant to mold and mildew growth, contributing to a healthier indoor environment.
Want to learn more about vinyl sheet flooring? This blog is your ultimate guide!
Laminate
Laminate flooring is a popular choice for homeowners due to its affordability, versatility, and durability. It is a synthetic flooring option that mimics the look of hardwood, stone, or tile but at a fraction of the cost.
Laminate flooring comes in a variety of styles to suit different aesthetic preferences. It can replicate the natural grain patterns of various wood species, ranging from traditional oak to exotic mahogany. Additionally, laminate can mimic the look of ceramic or stone tiles, offering a wide range of design options.
One of the main benefits of laminate flooring is its durability. It is highly resistant to scratches, stains, and fading, making it suitable for areas with heavy foot traffic or active households. Laminate is also moisture-resistant, making it a practical option for kitchens, bathrooms, or basements.
Compared to other flooring options, laminate is relatively easy to install. It typically comes in interlocking planks or tiles, making it a suitable choice for DIY home improvement projects. Additionally, laminate requires minimal maintenance, with regular sweeping and occasional damp mopping sufficient to keep it looking its best.
Want to learn more about laminate flooring? This blog will tell you everything you need to know!
What is the difference between vinyl and laminate? Read more here.
Carpet, Hardwood, Vinyl, and More from A Step Above Flooring
A Step Above Flooring is your go-to destination for all your flooring needs, offering a wide range of options including carpet, hardwood, vinyl, laminate, and more. With an extensive selection of products, you can find the perfect flooring solution to suit your preferences and lifestyle.
Stop in our beautiful Cincinnati flooring showroom today to discover a world of flooring options perfect for your home. Our team of dedicated professionals is ready to answer your questions and help you find the floors of your dreams.
Click here to contact A Step Above Flooring, or stop by our showroom today!
If you are looking for more flooring tips that will help you find your next great floors, follow A Step Above Flooring on Facebook, Pinterest, and LinkedIn.
Happy with the A Step Above Flooring difference? Leave us a five-star review on Google here!